In September 1952, Marilyn Monroe visited the campus of Georgia Tech to do a photo shoot for Look magazine. As Tech were the national champions that year, the magazine did a four-page spread about the team and their legendary coach, Bobby Dodd. Here's a copy of the original cover picture, sans the masthead and cover blurbs: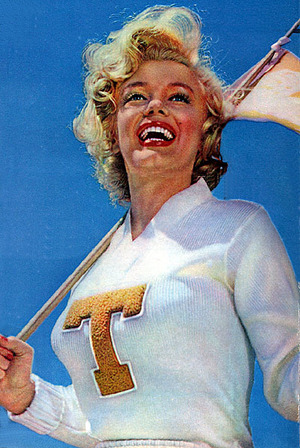 I've looked all over the Internet and haven't been able to find a digital copy of the article, but you can buy a copy of the magazine here for the low, low price of $168! Marilyn was sooooo hot, and she looked especially good in the Tech sweater!
GO JACKETS! TO HELL WITH GEORGIA!