With the vote for Scottish independence coming very soon, I thought this little tale was timely.
In 1707, the parliaments of England and Scotland voted to dissolve themselves and create a new parliament made up of members from both countries. "England" and "Scotland" effectively ceased to exist, and a new country was born: the "United Kingdom".
Which is really odd if you think about it. Hadn't they been at war with each other off and on for, like, 800 years? Why the sudden change of heart? Why would England and Scotland – two longtime foes – suddenly become friends?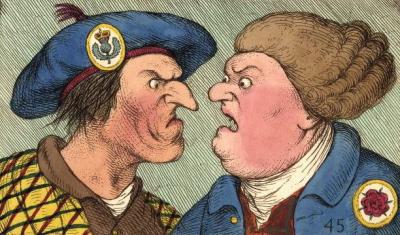 *     *     *
By the late 1600s, most of Europe's maritime powers had founded colonies. Spain controlled much of South America. Portugal had Brazil, parts of India as well as a bunch of economically important islands. The Dutch had New Amsterdam in North America and most of the Spice Islands. And the English had North America and a few outposts in the Caribbean.
Many in Scotland wondered why they didn't have a colony of their own. But it wasn't as simple as just getting in a boat and putting up a flag somewhere. There was little point in having a colony just to have one. The Spanish made millions off South American silver, while the Dutch made money off spices and tea, and the English money from tobacco and sugar. What the Scots needed was a colony that could provide some sort of economic gain.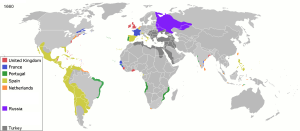 And gain was sorely needed in Scotland. Economically it was a pipsqueak compared to England, an advantage the English used at every level to keep Scotland subjugated. England's Navigation Acts kept independent Scottish trade to a minimum, not that it really mattered, since Scotland's navy was tiny compared to England's. Most imported goods therefore had to be bought from England, and England required the use of pounds sterling, not Scottish money, which drained the economy even more. A couple of civil wars had squandered a lot of human and financial capital, and several years of crop failures pushed Scotland's economy to the brink.
The "Company of Scotland Trading to Africa and the Indies" was created by the Scottish parliament in 1695. Capital was raised for the venture in Amsterdam, Hamburg and London. But not really. England's East India Company complained to the crown they they, not some Scottish upstart, had been given a monopoly on trade to the Indies. And the East India Company was one company you did not mess with. At the apex of its power, the Company ruled much of India – an area much larger than the United Kingdom, with several times as many people. It ruled other places – the East India Company created modern Singapore, for instance. The Company had an army of 200,000 men, its own church, currency and government, and accounted for over half the trade in the entire world. What the East India Company wanted, the East India Company got.
Immense pressure from King William III and East India investors caused Company of Scotland investors in London, then Amsterdam, and finally Hamburg to abandon their pledges. The Company of Scotland tried looking elsewhere for money, but Europe's other banks and investment centers got the hint from London, and no one stepped up to the plate.
So the plan to trade with Africa and India was abandoned, and a new idea was formed: a Scottish banker named William Paterson wanted to create a "gateway" between the Atlantic and Pacific oceans. He noticed that the land in what is now Panama was very thin. Just as people later got the idea to build the Panama Canal, Patterson's plan was to built a seaport on the Atlantic side of the coast, another on the Pacific side, and build a road connecting the two. Goods could therefore be sent safely by land instead of ships having to navigate the treacherous waters around Cape Horn or the Strait of Magellan. This would shave weeks off shipping times for goods, and for this merchants would pay a small fee, which would earn money for Scotland. Easy, right?