My girl watches a lot of HGTV. Since I kind of "own" the HDTV in the living room, Lisa and I have an unspoken pact where she "owns" the TV in the bedroom. So I don't complain when she flips it on HGTV, even though it's not really my bag. I mean, House Hunters is OK, I guess – even though it's all kind of the same after a while – and I actually kind of dig House Hunters International just to see how crazy home prices are in London or how it is that Italians pay cash for their houses. But really, the only shows I really enjoy on HGTV are those "weird house" shows. You know what I'm talking about… the type of show that visits a house made entirely of Lego blocks or maybe an old theatre or elementary school that's been converted over to a house. That sort of thing.
Well, ladies and gentlemen, let me offer my own contribution to the "weird house" phenomenon: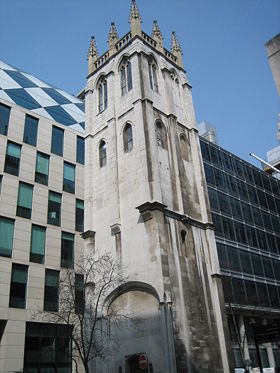 This is all that's left of St. Alban's church, on Wood Street in London. Some believe that this site was the location of the palace of King Offa, an Anglo Saxon ruler of Mercia (what is today the English Midlands), who ruled from from AD 757 to 796. Parish records date back to the year 930, and it is known for an absolute fact that a church has been on this exact site since 1077. In any case, by 1633 the church had fallen into serious disrepair, and a committee fronted by Exchequer Sir Henry Spiller and Inigo Jones (who is widely regarded as "England's first architect") recommended that the church be demolished. And it was, in 1634. The church built to replace it was short lived, having been destroyed in the Great Fire of London in 1666. The church was rebuilt yet again, this time by Sir Christopher Wren in 1685. And this is what you see today… sort of. Most of the church was destroyed during The Blitz in 1940. The tower was the only part of the church to survive the bombing, and the remainder of the ruined building was demolished in 1965.
The tower is now a private residence. Interestingly, it stands in the middle of a busy London street, in a "traffic island". Here's another picture: