2013 has been an interesting year in TV so far. American network TV has been a huge disappointment… but there's plenty of great stuff out there if you know where to look. And this year's "best of" list contains a few surprises: two shows from New Zealand, and the first ever non-English language show!
So… let's get it on! As always, you'll find the list of my favorite new shows, in rough ascending order of preference (keep in mind that the list is only for new shows, so Breaking Bad and Mad Men aren't on the list). Then there's a list of shows that tried but failed, a section about miniseries, a tribute to shows that have left the air, and various odds and ends.
THE BEST NEW SHOWS ON TV
The Americans (FX) – This show has the potential to be great: Matthew Rhys and Keri Russell play Philip and Elizabeth Jennings, an all-American couple raising two kids in northern Virginia. However, their real names are Mischa and Nadezhda, and they're a pair of KGB spies trained to pass as Americans. The "spy stuff" on the show is great, although it doesn't hold up to close examination: you'll find yourself asking "Why would they… " or "How come they don't…" early and often. In spite of that, it really does keep you on the edge of your seat. But where the show fails is "any time they aren't doing spy stuff". Philip and Elizabeth have domestic troubles like any other couple: intimacy and trust issues, trouble with the kids, etc. Others, such as neighbor (and FBI spy hunter) Stan Beeman have similar (boring) problems, too, and it drags the whole show down. Still, the supporting cast is great: Margo Martindale plays "Claudia", Phil and Elizabeth's KGB handler, and Richard "John Boy" Thomas plays Stan's boss at the FBI. One odd thing about the show is the lack of historical detail. The sets and costumes look more like "generic Americana" than the early 1980s specifically. And sometimes the camera seems to focus on one particular object – like an old rotary phone – as if to make up for the lack of a time-specific feel. It's like the show doesn't have the budget to do the nice touches Mad Men is known for, and to make up for it they have the camera linger on a Space Invaders arcade game or Kim Carnes cassette as if to scream "SEE! IT REALLY IS 1981!!!". Most of the suits the FBI agents wear would be perfectly acceptable in 2013 corporate America: not a single polyester jacket, wide lapel or obnoxious tie is seen. In early episodes, rotary pay phones and old cars are really the only hints that it's 1981 and not 2013. Perhaps it's a minor quibble, but Mad Men has really raised the bar for details like this.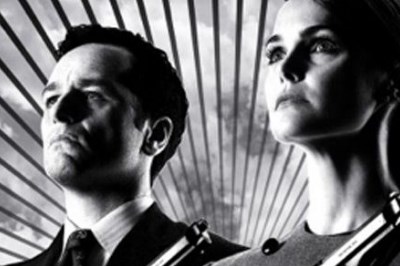 Way to Go (BBC Three) – For years I've believed in something I call the "French Film Fallacy": a certain type of film buff will only watch French films because they're "so much better than American films". Of course, in a good year only the six best French films make it to the US, so the pretentious hipster never sees the 200 crappy French films made that year. The point is, I don't know if I'm losing my taste for British comedy, or if the easy downloadability of TV shows has "diluted the talent pool" such that I'm seeing a lot more crap comedies these days. This makes Way to Go especially interesting. Although made in the UK with British actors, it's written by Bob Kushell, an American who has written for The Simpsons, Malcolm in the Middle and 3rd Rock from the Sun, among others. Blake Harrison stars as Scott, a nice guy who has taken a dead-end job as a receptionist at a veterinarian's office because he can no longer afford medical school. When his gambling addicted half-brother Joey (Ben Heathcote) gets in trouble with the Wrong People, Scott reluctantly agrees to help pay back the bookies by assisting a terminally-ill neighbor's suicide. Scott steals euthanasia drugs from his vet's office and asks his friend, Cozzo, who repairs machines at fast food restaurants, to build him a "suicide machine". When the suicide is successful, Scott, Joey and Cozzo decide to go in to the assisted suicide business… and people are just dying to become customers! (Sorry, that was truly terrible). Although morbid (and more than a little controversial), the show was one of the funniest things I've seen on UK TV in a long time. The characters remind me a bit of a more daring Reaper. Blake Harrison (Scott) plays a similar "nice guy" character to Bret Harrison's Reaper character (they have the same last name, too!), and Marc Wootton (Cozzo) is not only a dead ringer for Tyler Labine, he plays a similar "good friend who is a slacker, and constantly screws up" just as Lebine did in Reaper.